Fast Freddy's Recipe of the Month
Originally known as "cottage pie," the traditional Shepherd's pie, brought forth here from the folks at geniuskitchen.com, uses lamb for which Shepherd's Pie is known. It is sure to make a memorable impression on your friends and family this holiday. Don't forget to mix in a lucky bottle of a red wine!


Ingredients: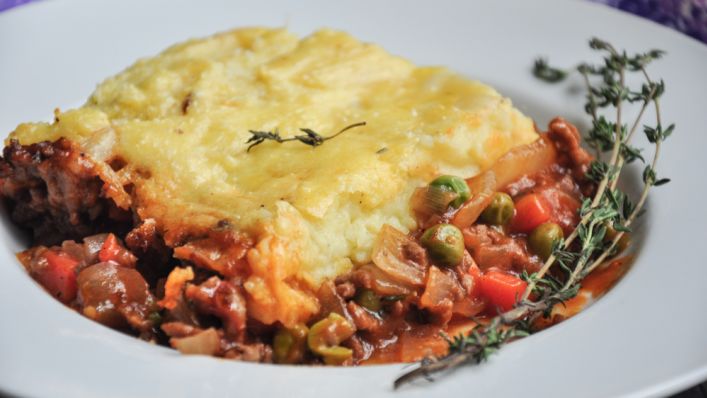 1 tablespoon olive oil
1 teaspoon black pepper
1 lb ground beef or 1 lb lamb
1 large onion, finely diced
3 -4 large carrots, finely diced
1 cup frozen peas
3 -4 sprigs fresh thyme, finely chopped
2 tablespoons flour
1 tablespoon butter
1 glass red wine
2 tablespoons tomato paste
2 tablespoons Worcestershire sauce
1 cup chicken stock
1 large quantity mashed potatoes (estimating 1L or 6 cups, fresh or leftover)
1 egg, beaten

Directions:
Pre-heat oven to 200C/400°F.
Sauté carrots in the olive oil until starting to get tender.
Add in the onions and sauté for a minute or two then add the meat.
Season with black pepper and thyme.
Cook until browned then drain fat.
Add the butter and peas.
Sprinkle with flour and stir through.
Add tomato paste, wine and Worcestershire sauce.
Let this reduce slightly then add the chicken stock. Allow to reduce until you have a thick meaty gravy. Season to your taste.
Remove from heat. Grease an oven proof dish** (9x13 works for me, as does an oval baker) with butter and add the sauce.
Spoon or pipe the mashed potatoes over top. Brush with egg and sprinkle with Parmesan cheese if using.
Bake for about 20 minutes or until the potato is nice and browned on top.
Serve as is or with some crusty bread to mop up that yummy sauce!